Organisations face increasing industry disruption, market uncertainties, competition, risk and rapid innovation. For business partners these considerations bring an increased responsibility for driving and owning business outcomes.
Our Business Partnering Impact Program is designed to help business partners enhance their business partnering capability.
After completing the Business Partnering Impact Program, you will:
Be equipped with the relevant skills to meet the demands of key stakeholders and the increased pace of change
Create a stronger foundation for your stakeholder relationships
Have a clear understanding of your personal value proposition
Position yourself as a highly valued and trusted strategic advisor
Improve your commercial acumen to complement your technical expertise
The program consists of seven modules, delivered online or in-person. The in-house sessions are tailored to drive the desired service delivery  change and improve the business partnering experience across the organisation. You will also gain access to the Impactology community and content.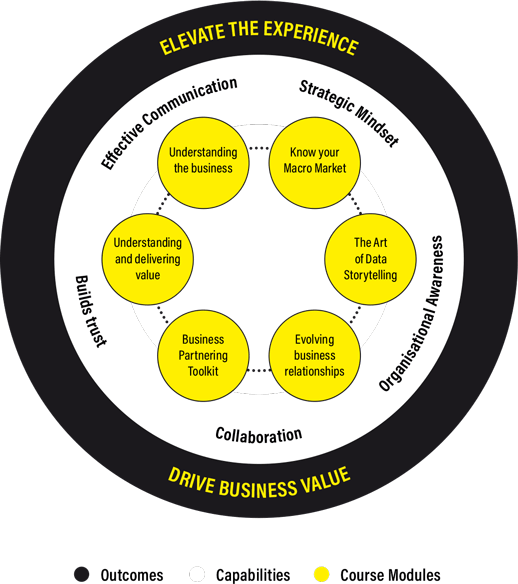 UNDERSTANDING THE BUSINESS
Systematic approach to understanding your business model.
We establish a clear definition of what it means to think and act strategically, whilst nurturing a strong commercial mindset. This module covers the broad and inter-related areas of a company business model, and how to use this knowledge to support the business with informed decision making.

EVOLVING BUSINESS RELATIONSHIPS
Core capabilities for strategic partnering
This module identifies the roles in business partner relationships, including key internal stakeholders and colleagues. We focus on the importance of building trust, effective communication skills and having presence in the business partnering relationship for optimal impact.

Understanding external influences to enhance decision-making
Business decisions are influenced by internal and external factors. This module focuses on building a strong "outside-in" view of the world and how macro-environmental factors impact a company's direction and how they impact decision-making.

BUSINESS PARTNERING TOOLKIT
High impact skills for greater effectiveness
In this module, you will be introduced to tools such as the Partnering Navigator and the power of thought-provoking questions as you expand your knowledge of models and frameworks. We also cover Contextual Partnering and understanding when to navigate between delivering, coaching, advising and partnering.

THE ART OF DATA STORYTELLING
Build your data and analytics storytelling muscle
Whether you are pitching an idea, communicating a new strategy, or engaging with colleagues, effective storytelling serves an important role in the workplace and any change process. As a Business Partner, regardless of discipline, there is immense value in building your confidence using financial data to increase your impact and engage with your stakeholders.

UNDERSTANDING & DELIVERING VALUE
Key drivers necessary for strategic success
To know you're having impact, you need to be able to measure your value as a Business Partner. This module explores your Personal Value Proposition and provides a framework for you to use in assessing the value you are creating.
The Business Partnering Playbook
Finally, a book that provides realistic and targeted advice to Business Partners! 
Business Partners hold a vital role as trusted confidants with deep technical expertise,  and their impact is evident across all business functions.  Initially tasked with providing advice, they are now true collaborating partners, ideally placed to lead and manage change in the changing world of work and business. Yet as the Business role has changed, there has been no pathway to develop the competencies essential for their success. 
Until now. If you are a current or aspiring Business Partner – HR, Finance, Procurement, IT, Risk, Audit, Compliance, Legal, Marketing – this is the book for you.
EVOLVE shows you how to navigate service models and systems, build your commercial acumen and deliver value to your organisation.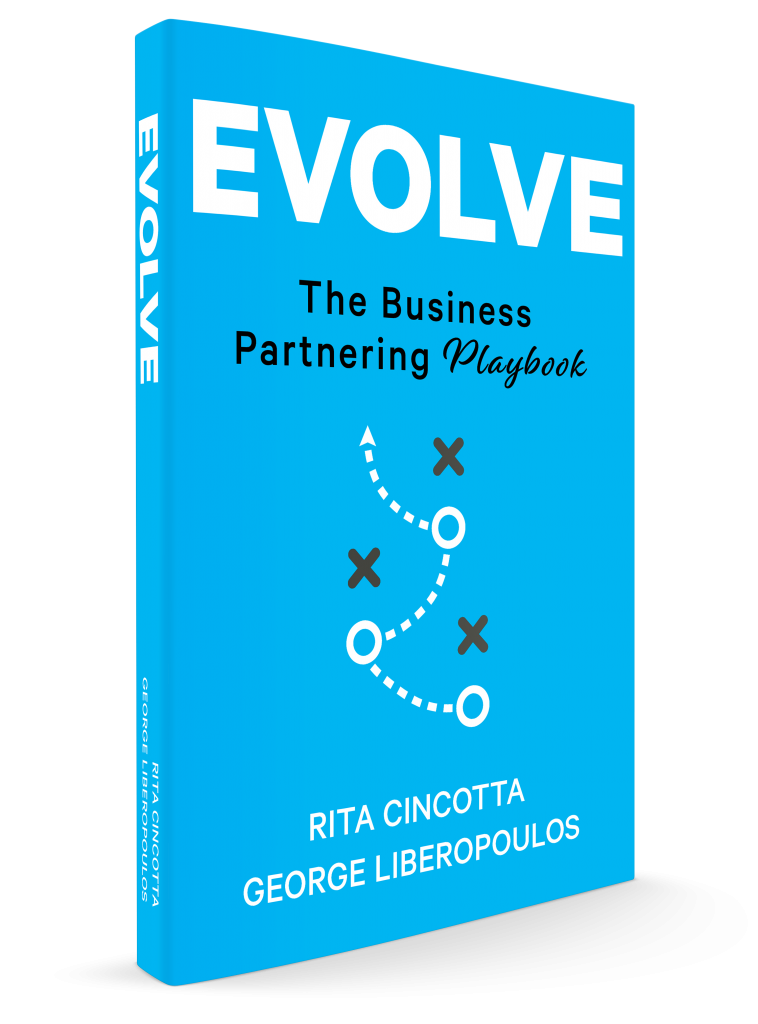 Guidance really helped
I really connected with and appreciated the style and approach. The one-on-one guidance really helped.
Claire
Senior Manager
Helped me achieve
My goal was to maintain focus on my most important leadership priorities and this program has helped me achieve this.
Andrew
General Counsel
Program helped me in so many ways
My learnings from this program have helped me in so many ways both personally and professionally.
Deborah
HR Director
Insights were innovative and pragmatic
I appreciated the extensive experience from a wide range of sectors to draw upon. The insights shared were innovative and pragmatic
Raj
GM Human Resources
Truly enriching and transformational experience
The guidance I have received has been instrumental in helping me to workout my overall vision and strategies for my career and personal goals. This has been a truly enriching and transformational experience.
Katarina
Marketing Specialist
We want to disrupt everyday thinking, spark new ideas and create new ways to interact that will support you to truly have an impact. If you're ready to increase your impact as a Business Partner, register your interest to join our Business Partnering Impact Program by filling out the form below.