In short, we aim to disrupt conventional thinking. We connect people in ways that spark new ideas and help them achieve their goals faster.
Whether you're looking to sustainably grow your business, upskill your team, or pursuing a new opportunity, we have a solution or program to arm you with the knowledge you'll need to make a truly meaningful impact in the work you do.

Our Business Advisory Growth Services help purpose-led business owners and entrepreneurs create new opportunities for sales growth. But, not growth for growth's sake. We are strong advocates for sustainable, healthy, client-centric growth, helping you develop a clear and exciting strategy and action plan, whilst nurturing a brand and culture employees and clients will admire.

BUSINESS PARTNERING IMPACT PROGRAM
Our Business Partnering Impact Program focuses on building the behavioural attributes and commercial acumen required to make a greater business impact. This experiential and interactive program will equip business partners with the skills to drive positive business outcomes and enhance stakeholder relationships.

ELEVATE YOUR IMPACT PROGRAM
Our Elevate Your Impact Program will help you realise your true potential. Whether you are dealing with a significant life event, recently promoted or pursuing a new development opportunity, this interactive program will equip individuals with the skills and tools enabling you to make better choices around your life and career.
COMPANIES WE'VE WORKED WITH
The Business Partnering Playbook
Finally, a book that provides realistic and targeted advice to Business Partners! 
Business Partners hold a vital role as trusted confidants with deep technical expertise,  and their impact is evident across all business functions.  Initially tasked with providing advice, they are now true collaborating partners, ideally placed to lead and manage change in the changing world of work and business. Yet as the Business role has changed, there has been no pathway to develop the competencies essential for their success. 
Until now. If you are a current or aspiring Business Partner – HR, Finance, Procurement, IT, Risk, Audit, Compliance, Legal, Marketing – this is the book for you.
EVOLVE shows you how to navigate service models and systems, build your commercial acumen and deliver value to your organisation.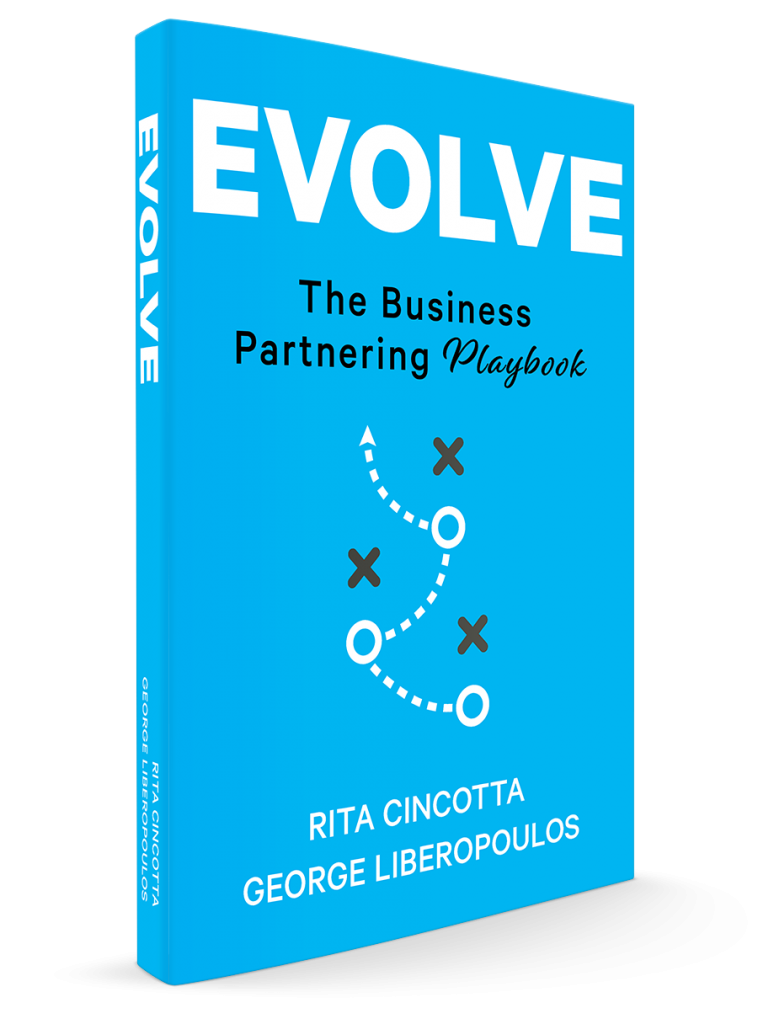 TAILORED ADVICE & INSIGHTS
5 CORE CAPABILITIES EVERY BUSINESS PARTNER MUST HAVE
The Business Partner role has evolved. Now more than ever, we need Business Partners with the behavioural attributes and commercial acumen to elevate the client's experience and drive superior business value.
Guidance really helped
I really connected with and appreciated the style and approach. The one-on-one guidance really helped.
Claire
Senior Manager
Helped me achieve
My goal was to maintain focus on my most important leadership priorities and this program has helped me achieve this.
Andrew
General Counsel
Program helped me in so many ways
My learnings from this program have helped me in so many ways both personally and professionally.
Deborah
HR Director
Insights were innovative and pragmatic
I appreciated the extensive experience from a wide range of sectors to draw upon. The insights shared were innovative and pragmatic
Raj
GM Human Resources
Truly enriching and transformational experience
The guidance I have received has been instrumental in helping me to workout my overall vision and strategies for my career and personal goals. This has been a truly enriching and transformational experience.
Katarina
Marketing Specialist
FIND OUT HOW WE CAN HELP YOU MAKE AN IMPACT
At Impactology, our focus is on helping companies thrive and grow and individuals to live better, work smarter and be authentic. We are passionate about helping people to be more confident and excel at what they do. To find out more about our solutions or programs and how we can help you, fill in the form below.