When a Business Partner is presented with an issue to work on with a leader, or their teams, often the type of work will require consideration to best select the type of support to be provided at that point in time.  Issues can vary from simple to complex and from operational to strategic.  This distinction is important as it influences the Business Partner's approach.   Adopting a consistent approach as a Business Partner is not ideal as this does not consider the complexity of issues and the type of advice that may be required.
We present four key modes in our Contextual Partnering model.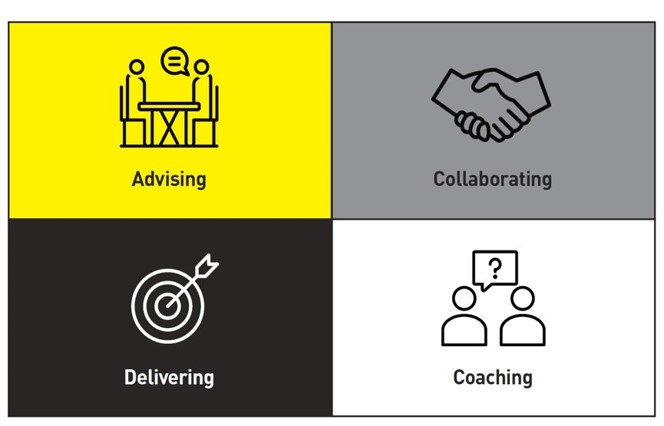 These four modes were identified based on the types of tasks and requests a Business Partner may be asked to assist with.        
Advising– In the advising mode, the Business Partner is responding to a particular query or question and advising on the matter.  This mode draws on the Business Partner's expertise and their ability to investigate, gather facts, problem solve and communicate this to the client. 
Delivering – in delivering mode, the Business Partner is task focused, and delivering at the client's request.  These tasks tend to be more operationally focused, and one way.  A request is made, and the Business Partner delivers.  This could include provision of reports and data or a specific activity that is operational. 
Collaborating– in collaborating the Business Partner is called upon to contribute to an activity or issue together, in partnership with their client.  The nature of collaboration is about partnership.  The relationship is more equal in this mode.   It is characterised by working together, rather than working independently and presenting the work back to the client.  In this mode, the Business Partner is likely to feel very integrated in the team. 
Coaching – in the coaching mode, the Business Partner is there to prompt and provoke by asking questions that encourage the client to expand their thinking or mindset in relation to a particular issue.   Coaching is about not providing direct responses, but rather assisting the person you are working with to explore a way forward, based on their ideas. 
So where do you start in determining the mode of support?  The table below provides some guidance.  We look at the modes through the Problem and Complexity lenses.
However first, in order to best determine the mode of support, we need to know more about the problem and the possible complexity level.
The most powerful tool you have in determining this is a good set of questions.
Open ended are the best to elicit information even in a very undefined problem.
What
What has been done to date in trying to resolve the issue?
What have you found has worked for you?
What has caused this to come about?
What are the risks involved?
Why
Why has this issue occurred?
Why have the other solutions had limited success/great success?
Why now?
Why not now?
Who
Who are the key players involved?
What is their impression of the issue?
What are their expectations of you/your team?
How will you demonstrate confidence to them?
How
How have you gone about defining the issue?
How do you know you have all the information you need?
How will you communicate this to your team/colleagues/Executive team/Board?
Where/When
Where is this issue causing friction or tension?
When will you choose to tackle this issue?
Where/when is the best way to communicate about this issue?
By using these questions, you can gain deeper insights into your client's issues.  It also gives you valuable information that helps you to best support your client using the most effective mode. 
Here is the contextual partnering Model with the overlay of the problem and complexity axes. 

The Contextual Partnering Model acknowledges that there are various modes that the Business Partner role can engage in when working with clients. This model can also be used for work with other colleagues.  It encourages diverse thinking and approaches and reminds us to reflect on where our client is at before engaging in a mode.   Whilst a Business Partner may have a preferred mode, it is about selecting the mode based on the issue at hand that can best support the client.